Featured Cleaning Services
Carpet Cleaning Sheboygan WI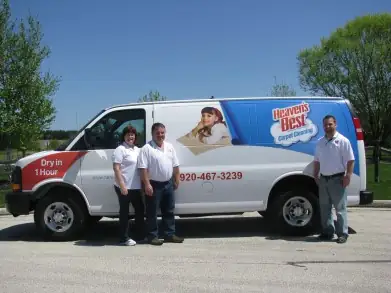 Heaven's Best Carpet Cleaning Sheboygan WI offers carpet cleaning, rug cleaning, upholstery cleaning, and more! Our carpet cleaners give you the best value and we are confident that Heaven's Best is the only carpet cleaning company you need. Call to talk to your local carpet cleaning technician to find out which cleaning service is best for you. They can answer your questions and schedule an appointment.
Meet Butch and Calen, and Sean your local Heaven's Best Team
Serving the Sheboygan area, Heaven's Best is a locally owned and operated company you can trust. The team of Butch, Calen, and Sean are clean, courteous, knowledgeable, trustworthy, and prompt. We take pride in our work and have built a reputation around quality work and excellent customer service. Our services include residential & commercial carpet cleaning, upholstery cleaning, tile and grout cleaning, hardwood floor cleaning, commercial floor restoration, spot and stain removal, pet accident correction, and fabric protection. At Heaven's Best we believe in providing Sheboygan County honest value and exceptional service at a reasonable price. AND its dry in about one hour!
Butch and his wife Cindy reside in Sheboygan Falls, WI and have always lived and worked in the Sheboygan community. They have 3 children, 2 sons (Cody and Calen) and 1 daughter (Nicole). They love their community and their Christian faith.
Butch has over 30 years of experience in the janitorial and cleaning industry. As the head of housekeeping and maintenance at an area retirement community, he was in charge of all upkeep on the grounds of the facility inside and out for 14 years. He then filled a position at a local janitorial supply company as a sales representative. Here, Butch had to know an entire line of cleaners, disinfectants, floor waxes, and all products to maintain a higher standard of cleaning for his customers. After 16 years of creating relationships with his customers he decided it was time to pursue his dream of working for himself, and owning a family business that he could pass down.
Calen (youngest son) has helped build the company since day one and will continue to own the company if Butch ever decides to retire. Calen went to school to be an automotive maintenance technician after graduating high school. He then found a position at a local company producing wind energy towers where he quickly became supervisor in his department. When the time came for Heaven's Best to open he immediately agreed to join and never looked back. Calen enjoys being outdoors. Whether it's golfing or camping with his wife and 2 dogs.
Sean (Butch's nephew) came on board full time 4 years ago. Sean went to school to be an X-Ray technician after high school and did so for multiple years. When the time came for a change of pace, Sean immediately took the opportunity to join the family business and enjoys every day. Sean loves the outdoors, bow hunting, fishing, and golfing.
When you schedule your carpet cleaning, rug cleaning, or upholstery cleaning with us, we give you a quote up front. We tell you, the exact time we expect to arrive, and the amount of time we expect the job to take. Upon arrival our clean-cut, uniformed technicians will walk with you and review all spots, stains, and areas of concern that require extra attention. We listen to you let you know what results to expect. Before we start we review with you the exact price for the job. With Heaven's Best Carpet Cleaning Company, you can expect great quality and value.
Dry in one hour!
Safe for Pets and Children
Eco-friendly
Best smelling results in the country
Professional results
Jane ★★★★★

★★★★★

★★★★★

"Amazing service! Will never call anyone else ever again!"
Sue ★★★★★

★★★★★

★★★★★

They were very nice. They cleaned the carpet in my living room, the hallway, and four of my chairs. They were very friendly, and their work was excellent.That sounds pretty cool. I think I'll try that service out next.
Sharon ★★★★★

★★★★★

★★★★★

I would definitely recommend this service. Technicians were prompt, courteous, fast and knowledgeable in the service they were providing. My carpeting looks and smells great. It dries quickly so you can resume household activities sooner.They also offered advice and tips on how to keep the carpeting looking its best. Good experience.
Robert ★★★★★

★★★★★

★★★★★

Excellent job. Carpet looks great. Very efficient.
Allen ★★★★★

★★★★★

★★★★★

What an awesome job. Carpet looks like new and the men were very nice people to have in our house.
Heaven's Best Service Area